ABOUT CAPLAN ASSET MANAGEMENT, LLC
Peter J. Caplan, CFP© Owner and Principal of Caplan Asset Management, LLC, specializes in personal and business wealth management as an Investment Adviser Representative of Commonwealth Financial Network, a Registered Investment Adviser. Peter has over 30 years experience in the financial services industry. He started Caplan Asset Management, LLC in 1999.
Education: B.A. Brown University 1985
FINRA Registrations: Series 6, 63, 7, 65
Insurance Licenses: Life, Accident & Health
CERTIFIED FINANCIAL PLANNERTM Professional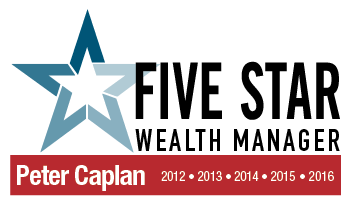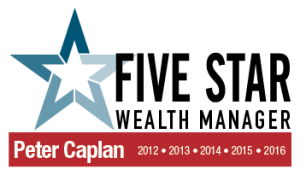 Based on 10 objective eligibility and evaluation criteria, including a minimum of 5 years as an active credentialed financial professional, favorable regulatory and complaint history, accepts new clients, client retention rates, client assets administered, education, and professional designations. 2,530 Boston wealth managers were considered for the award; 632 (25 percent of candidates) were named 2016 Five Star Wealth Managers.  (The criteria provided reflects the most recent year for which advisor received the award. The criteria used, the number of wealth managers considered for the award, and the percentage of those who receive the award, may vary from year to year). These awards are not indicative of the wealth managers' future performance. Your experiences may vary. For more information, please visit www.fivestarprofessional.com.
The Problem: Too much complexity and not enough time.
Complexity is one of the central issues of our time. People's success and satisfaction in life are all contingent upon how they deal with various situations that arise in life. We offer you sanctuary . . . relief from the constant and overwhelming drum of complexity, which attacks you in four different ways:
Information Overload: Being bombarded with too much information in multiple media forms provides you with little to no time to sift through products, platforms, and marketing materials. Information overload saps everyone of energy.
Too Many Choices: Having too many institutionalized options can overload us and instigate an overwhelming pressure to make the perfect choice. In the past, have you ever really felt that you've been ideally matched to one of an institution's hundreds of products? Wouldn't an individualized process be better than that seemingly 'magical' institutional fit?
Not Enough Time: This is the scarcest resource of all. An unprecedented amount of demands have eclipsed what most people feel they can handle. Being forced to handle tasks such as financial analysis, planning, and taking action simply use up a lot of time. Of course, the only way you can take action is if you have done your homework, which means you should have spent numerous hours researching . . . taking time that simply isn't there.
Financial Decisions: Multimedia campaigns provoke you into feeling, and eventually believing, that you are foolish if you don't take advantage of their products. Financial institutions promote so many products that it's virtually impossible to stay ahead of what's "new" and "hot" today.
The Solution: The right way to do business.
We relieve you from these complex burdens. We know the platforms and products. We tailor all choices to fit your personal situation. This saves you a great deal of time. And, we have no proprietary products to sell. So these four complexities, which instigate inaction and anxiety, can be alleviated. What we strive to achieve:
We tailor our planning to your specific situation. So the solutions we uncover will be specific to you.
We care for our clients in the way we'd want for ourselves. We founded the firm to be the kind of place where we'd want to be clients. We'd want to be respected, informed, and heard.
We know all of our clients and their goals. We understand that investing is more than just a numbers game. There's emotion involved as well. People assign different values to money and approach investing for many reasons.
We treat clients like people, not like portfolio balances. We think we are all pretty fun, friendly, and down-to-earth. We try to be good listeners, too. At lightship, we have a historical perspective that can help keep you on an even keel through the ups and downs of different market cycles.
We empower clients to feel confident about their decisions. You don't have to know the difference between a EFT and a UIT when you come to see us. We're happy to explain it to you if you're curious. If you're not, that's okay, too. Some clients want to take more of a hands-on role in the investment process; others want nothing to do with it. Either way, our goal is to make sure you sleep easily at night, secure in the knowledge that your money is working effectively for you.
In the end, we want you to feel that we have developed a process where:
YOU feel you are prioritized and focused on what matters to you
YOU have a direction which creates lasting clarity
YOU are going with confidence accompanied by lasting relationships
YOU are doing it with strong capabilities and lasting concepts
All so that you can make decisions, take action, and have a gratifying experience.